In: Packers and Stockyards Act
The Ag & Food Law Update
Livestock Dealer Trust: Payment Protection for Sellers
On December 21, 2020, the Consolidated Appropriations Act ("CAA") passed both houses of Congress and was later signed into law on...
Announcement: Packers and Stockyards Proposed Regulation Currently Accepting Comments
Today, USDA released a proposed rule governing competition in the livestock and poultry industries.  This was the latest iteration of the...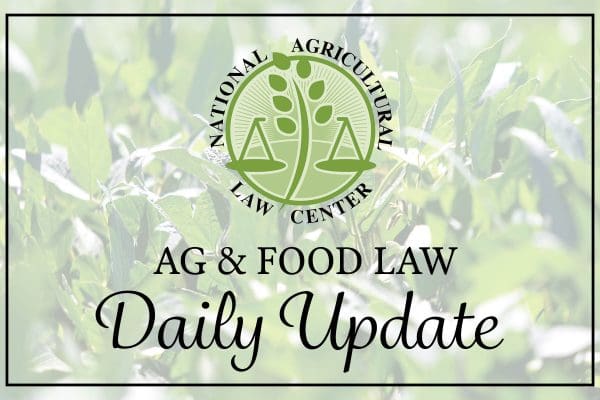 The Ag and Food Law Daily Update: Jan. 13, 2020
A comprehensive summary of today's judicial, legislative, and regulatory developments in agriculture and food. Email important additions HERE.                                                                                                                                                 JUDICIAL:...
AG & FOOD LAW UPDATE: JUNE 11th, 2019
REGULATORY: Notice: Rural Utilities Service, USDA.; The Rural Utilities Service (RUS), a Rural Development agency of the United States Department of Agriculture, is...
AG & FOOD LAW UPDATE: APRIL 9th, 2019
JUDICIAL: BREAKING FREE, LLC, & CONNIE BUTTRAM, Plaintiffs, v. JCG FOODS OF ALABAMA, LLC, KOCH MEAT CO., INC., & KOCH FOODS,...